Figuring out what makeup to wear can be fun but challenging, especially when trying to nail your makeup routine and create a flawless look. It's easy to be uncertain about what tones work best for you, whether it's lipstick, foundation, eyeshadow, blush, or other makeup products. Ideally, your go-to options should match your complexion and other features like your eyes and hair. Now, the fashion world has more colours than before (with newer ones popping up), giving you even more options. It's little surprise that you'll get overwhelmed choosing a good shade. But before you give up, here are some important things to know when choosing the right makeup colour.
Determine your skin toneThe makeup world works with four basic skin tones – deep brown, fair, light (or olive), and medium tone. If unsure of your skin tone, spend a few minutes in front of your mirror and observe the shade along your jawline to determine which skin tone category it falls in. If it appears white or pale, you have a fair tone. You have a light skin tone it's pale with a touch of yellow. If your skin looks like you just had a tan, you likely fall in the medium-skin-tone category. Dark and brown skin tones have a deep brown tone. So, why do these matter? Understanding your skin tone will help you pick makeup colours that match and enhance your natural complexion.
Understand your undertone
Your undertone will help you identify the best colour foundation for your skin. To determine your undertone, remove every makeup on your face and stand next to a window or any natural light source. Now, grab a sheet of white paper and hold it up to your face (preferably close to your cheek) while looking into a mirror. If you don't have a mirror, place the paper against your wrist. Does your skin appear bluish or pink against the paper? If it does, you have cool undertones. You have warm undertones if your skin appears orange or tan against the paper. You've got neutral undertones if you notice something between orange and tan. But you have red undertones if it looks reddish or has a deep-brick tone against the paper. You likely have blue undertones if you notice deep bluish-purple hues against the paper.
Your undertone will influence how makeup appears on your skin.
Take your hair colour into account
So, you've tried several times to identify your undertone, but it's not working. Or perhaps the entire process is too complicated for you. Then, turn to your hair colour instead. Choosing the right makeup isn't only about your skin tone; your hair also has a say. In most cases, creating the right contrast between your hair colour and makeup can achieve amazing results. If you're blonde, for instance, neutral shades will work well. Brunettes and people with black hair can work around different shades. Redheads often look good with warm browns and earthly tones. It would help to consider additional touches you've made to your hair. For example, you may have hair lowlights or highlights in different tones. These will affect what makeup works best for you.
Let the time of occasion guide you
Sometimes, the easiest option is to consider the occasion before deciding what makeup to wear. For example, if you're going for a daytime program, you'll need something that looks good under natural light. Of course, you still have to factor in your complexion, but natural and subtle shades will work best. You may have to choose bolder tones for a night-time or evening event under artificial lights. That will help you create a more dramatic finish. Adding tones that contrast purposefully will make your makeup more visible under low artificial lights in evening events.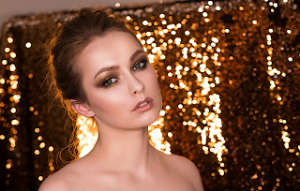 Pay attention to your lips and eyesThe colour of your lips can dramatically impact your overall makeup look. When choosing, consider your skin tone and do your best to blend them with your eyes. Creating a coordinated look between your lips and eye colours will give you a more cohesive and polished appearance. Choose makeup options that will make your eyes stand out even more. For example, plum makeup can intensify your looks if you have brown eyes. Blue shades and green hues can also give you a luscious and unique makeup look if you have brown eyes. And don't forget to consider your eye colour when choosing mascaras, liners, and eyeshadows.