Brow Treatments
At KG Salon we offer a range of brow treatments including HD Brows, brow Lamination and KG brows.
We promise to leave your brows looking healthy, beautiful and well maintained.
Book your eyebrows & see prices here
HD Brows
HD Brows is a bespoke eyebrow treatment that is totally tailored to you – not a brow stencil in sight. It's more than a standard eyebrow tint and wax; our expertly trained stylists combined with HD's unique design formula with custom-blended colour, hair removal and make up application for brows that suit you. Our stylists work with you to create your perfect look, whether your wish to tame your brows or regrow over plucked brows.
HD Brows is a regrowth program. You would rebook in every 4-6 weeks.
Patch test is required 48 hours before. 
Book HD Brows here
KG Brows
A KG Signature treatment! KG Brows consists of a brow wax and tint, producing more defined, clearly structured brows. 
Patch test is required 48 hours before.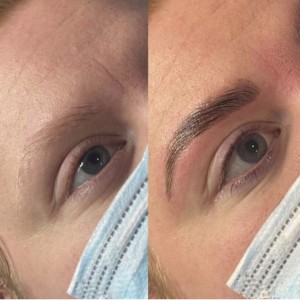 Brow Lamination
Brow lamination is an eyebrow perming treatment that can ultimately restructure the brow shape by setting the hairs in place using professional products. It's great for those who love a 'brushed-up' or thicker brow look but can't seem to tame their brow hair due to it being too straight or fine. It can equally can help with sparse, fine or light brows, with a the tint included brow lamination can uncover those hidden brows and create a brow shade and shape that's desired.
Treatment effects will last up to 6 weeks. Both a wax and tint is included, however this is optional.
We use KG Professional Brow Lamination products, our sister company that distributes professional products around the world.  It is one of the fastest but kindest Brow Lamaination systems around.
Patch test is required 48 hours before.