Massages
Choose your massage to suit your mood, from a relaxing massage, deep tissue or target specific areas. Allow our highly skilled masseuse to ease your tense muscles and soothe your soul.
Enjoy an hour of you time in our relaxed, stress free treatment rooms.
Facials
Environ Facials
One Environ facial gives the same effect as 77 normal facials! You can imagine the results.
Environ was founded by a south African Plastic Surgeon. He developed the use of Vitamin A in effective doses for skincare after losing a couple of young patients in Malignant Melanoma. Dr Fernandez researched the mechanics of the skin and discovered that Vitamin A has a normalising effect on the skin, especially for sun damage and ageing skin, but also for other skin conditions such as Acne and Eczema.
Active Vitamin Treatment – 1 Hour £65.00
Packed with nourishing anti-ageing ingredients, the Active Vitamin Treatment will leave your skin looking radiant and dewy. The freshest, most active form of vitamin A, C and antioxidants are driven deep into the lower layers of the skin using sound waves and boost radiance. The Active Vitamin Treatment is suitable for all skin types and is particularly effective at addressing sun damages, pigmentation, premature ageing, dryness, uneven skin tone and scarring with measurable differences after just one session.
The Frown Treatment – 45 mins £90.00
This anti-ageing facial treatment uses a special penta-peptide serum to target frown lines and achieve dramatic results. Active ingredients to replicate the results of Botox without resorting to the needle. Designed to soften frown lines, it helps to reduce muscle tension in the forehead area, so fown lines become smoother, shallower and less prominent, and helps to prevent new lines forming.It is a fantastic prior to a special occasion as effective results can be achieved within 1-3 hours. It is also recommended for those clients receiving Botox to incorporate this as a facial course to enhance and results.
Collagen Power Facial – 1 Hour £65.00
This treatment uses gentle sound-waves to drive a special nutrient-packed serum deep into the lower layers of the skin. The formula contains a unique combination of three peptide complexes, which work in synergy to give the skin a plumper, more radiant appearance. The Environ Collagen Power Facial instantly hydrates, visibly softens lines, tightens skin and evens skin tone. It boosts collagen, softens fine lines and tightens lax skin, resulting in a more youthful appearance. Ideal for targeting mature or photo-damaged complexions.
Face Lift Facials: Angelic A-Lift Facials
A selection of deeply relaxing, indulgent, facials that are 100% pure. They are highly effective, working on cell-regeneration, wrinkle prevention, anti-ageing, lifting & toning. A Harley Street celebrity favourite!
The Facelift Alternative:  Dermatude Meta Therapy
A deep tissue treatment that painlessly encourages skin rejuvenation, finer pores, regains elasticity & younger looking skin. Meta Therapy works by filling wrinkles from the inside out. Suitable for forehead wrinkles, crow's feet, frown wrinkles, eye bags, mouth wrinkles, neck & décolleté area.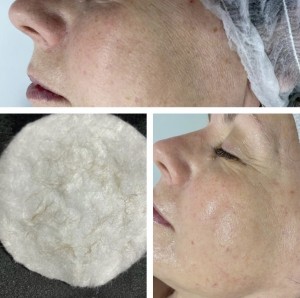 What is Dermaplaning 
Dermaplaning is manual exfoliation of the face. Where both dead skin cells and vellus hairs (the fine hairs on your face, otherwise known as 'peach fuzz') are scraped away from the surface of the skin. Dermaplane removes 21 days of dead skin and vellus hair. Which then leaves you with a brighter, smoother and more youthful appearance. It also allows deeper penetration of products of smooth glowing skin.
Will my hair grow back thicker? 
We remove the top layer of the dead skin and vellus hair. The vellus hair will grow back slowly over 4 weeks. It will be exactly the same as what it was like before treatment if you wasn't to have the treatment again. Treatment is recommended every 4 weeks.