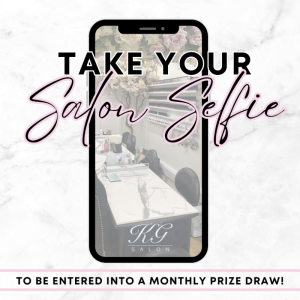 We are thrilled to announce our brand-new Salon Selfie Competition! This is where you have a chance to win fantastic prizes every month simply by showing off your treatment or time in the salon!
Here's how it works:
1. Enjoy a pamper with any of our treatments.
2. After your appointment (or during), take a selfie showcasing your fresh new look. Be as creative as you like and let your personality shine through the photo!
3. Share your salon selfie on Instagram or Facebook, making sure you tag us @kgsalon_bartonleclay. This step ensures we can see your entry and include you in the competition.
That's it! By following these simple steps, you will be automatically entered into our monthly prize draw. We have a range of exciting prizes lined up, including free salon services, luxury gifts and gift cards to your favourite local businesses!
Remember, the more you take part, the higher your chances of winning!
Each salon selfie you share counts as an additional entry into the competition, so feel free to share your visits to us throughout the month.
We are so excited for you to share your selfies with us!
If you have questions or need further information, please don't hesitate to reach out to our team. We are here to assist you in any way we can. We may even "help" you get that gorgeous selfie if you're struggling or not hugely tech savvy. We really do not wish you to miss out!
As always, we thank you for being a valued client and we look forward to seeing your fabulous salon selfies!