THANK YOU!
⭐⭐⭐⭐⭐
I'm soooo proud of our team.
Customer service is so important to us, we want you to feel looked after when you come to visit us! Winning this award just means so much. We love seeing all the glowing reviews received daily by you! It lets us know we're hitting our goal of providing the best service we can 🥰.
Thank you for choosing us! 💖
---
❔ Do you have trouble with thinning brow hair?
❔ Gaps in your brows from over plucking in the past?
❔ Unruly hairs that have a mind of their own?
❔ Lack of shape or unevenness?
Brow Lamination is the answer to your prayers! 🙏
Essentially, a perm for your brow

A setting lotion helps your brow hair maintain a thicker and fuller look

Gives a set, uniform shape

Wax and tint included if needed

Results lasting for up to 6 weeks!
*Patch test required 48 hours before treatment
---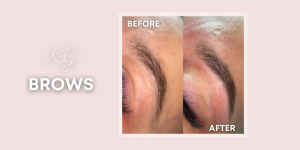 Don't underestimate the power of a wax and tint!
KG Brows include a wax and tint. This treatment will add shape and definition to your natural brows, framing your face perfectly! 👌
We can mix our tint to a shade that suits you.
*Patch test required 48 hours before treatment
---
Don't forget your Brow Glue!
I can't go anywhere without mine!
This is THE brow glue to add to your makeup/morning routine! It will help you create your ideal brow style with precision. 😍
This is THE answer to keeping stubborn brow hairs in place ALL DAY long!caster oil. Make sure you pick on up after your brow appointment to keep your brows nourished and held in place!
To add to the benefits to this must have product, it also includes
It's the perfect size to put in your make-up bag. 👛
Available to purchase in salon and online 🛒