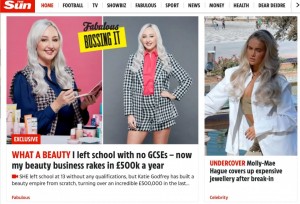 Our CEO, Katie Godfrey was interviewed by Fabulous Magazine to share her story. You can read the full article below.
https://www.thesun.co.uk/fabulous/16594038/school-no-gcses-beauty-business-bossing-it/
Katie Godfrey's story
Katie left school at 13 after being bullied, but this only made her more determined to succeed in life. Her Bedfordshire beauty salon, KG Salon, became a go-to destination and after being named Eyelash Technician of the Year in 2014, Katie started to rack up the awards winning 15 to date, and securing press coverage nationally including the likes of OK and Hello, as well as pampering various celebrities.
Now you're as likely to find her judging awards as winning them – she's co-owner of the "World Lash University" conference & awards which is partnered with "The Lash Games" at Olympia Beauty, and has her own podcast, "The Life Of KG", aimed at those in the hair and beauty space but also relatable to anyone in business.
Going on to own a chain of franchise salons, Katie then sold these to focus on education, aiming to raise standards across salons and within the industry. She launched KG Professional, a beauty training academy which now has branches in Bedfordshire, Southampton, Gloucestershire, Derbyshire, Milton Keynes, Sussex and Essex, and an eyelash product range. Within 6 months of launch, the eyelash range was selling into 500 salons and is now sold globally. Katie was one of the first trainers in the UK to teach Russian Volume Lashes, flying to New York to learn and then bring the techniques back.
In addition to maintaining the salon and pro businesses, Katie is a dedicated business mentor and looks after over 35 salons. She started this side business 3 years ago after being inundated by businesses coming to her for help as a result of her success story – she offers 1-2-1 and group mentoring sessions, and aims to launch the first comprehensive online business course for the hair and beauty industry imminently. She talks regularly at colleges and events about her story and is passionate about motivating others to build their careers. She is one of the authors of number 1 best-selling book, 'Extraordinary Women', and co- owner of "Salon Franchise," a consultancy company in the hair & beauty industry.
Katie's achievements are all the more impressive considering she has done this while single-handedly parenting her daughter. She is testament to the goals that can be reached with determination and hard work and is inspiring and helping many others to do the same.