We have a couple of exciting things happening regarding our skincare.
You only have one skin and it's the thing we tend to look after the least! We are now making it super easy for you to manage your skincare routine.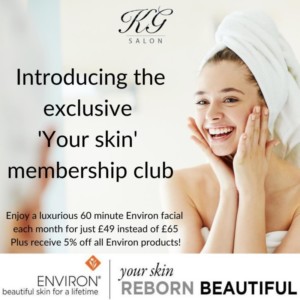 Introducing the KG "Your Skin" membership. This unique membership package offers you a luxurious 60 minute Environ facial each month for just  £49.00! (Instead of £65.00) Plus, you also get an extra 5% off all Environ products & treatment offers as part of your membership.
If you would like to join the club, email us & we will send you the link for the monthly direct debit to join.
Would you like an in-depth skin analysis by a  specialist Environ expert?
Well now you can! Join us on Tuesday 25th February & meet the Environ specialist for your personalised consultation to address your skincare concerns. She will be using an innovative skin machine that will scan your skin to recommend the best treatments and products for you.
There are only 7 limited spaces so call or email to book in.
We look forward to seeing you soon.