Last weekend we celebrated our work Christmas party, as you know we don't do things by halves. We went to Dublin and what a fun, eventful time we had. I'm sure the girls will tell you all about it when you come in next.

So, let's talk about Christmas.

Our treat card points can not be used from 5th December until 30th December.

Treatments booked 16th December until 30th December also will need a deposit to secure your appointment. We hope you understand the reasons in doing this,  most appointments have been covered now. If you still need to make a deposit please could this be done during your next appointment with us or if you wouldn't mind giving us a call when it's convenient for you. Thank you!

15th December is Christmas Jumper day! Every year we love making the effort to wear our Christmas jumpers and we would love it if you could to. We will be raising money for Save The Children, there will be lots going on in salon so pop in and let's raise money for an amazing cause.

Our opening hours are: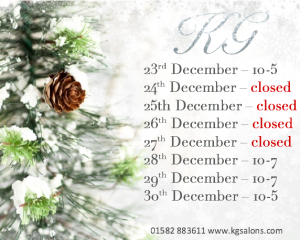 If you have a problem with finding an appointment online or on our app, please call the salon and we will do our best to find one for you.

Last year we loved giving all our clients a little something back, so we will be doing the same again this year. If you have an appointment during the week 16th December until stocks last. You will receive a £10 gift card to spend in January, terms and conditions are noted on the back of the card.

We look forward to seeing you all over the Christmas period.
Best wishes,
Jessica – KG Head Trainer