Well this week me and the salon girls went to the London Beauty Show at Olympia.
Such a fab day out – Meeting all our suppliers and stocking up on new amazing colours. We was also lucky enough to meet Peter Andre, Amy Childs and Lauren Goodger. Oh and not to mention Sophie Anderson while we was having a cheeky lunch in Pizza Express.
We have been hearing everyone raving on about Lauren's Way tan on social media. Which is Lauren Goodger's brand. It's got such amazing reviews – And I think you can't go wrong if your going on recommendation. So we went over to the stand and gave the tan ago. It was amazing – Went on so easy and such a lovely colour. We was sold!!!
Lauren was also really lovely – Worked on the stand all day and chatting away to her fans. Really down to earth girl. So we love her!
To get your Lauren's Way Mousse Tan you can pop into salon or order on this site at the online shop.
Medium is £17.95
Darker than Dark is £19.95
We also recommend you use a tanning mitt to get the best, even results £3.99
How to use:
* Apply with your tanning mitt all over your body – Be extra careful of your feet and hands. It will go on your skin quiet dark, but once rubbed in, its a gorgeous colour.
* Keep on for 8 hours (It doesn't look odd while developing so you can have a night out or do your day to day jobs with this on.)
* Have a shower/bath and a layer of bronzer will come off. Your left with a perfect golden tan.
* Tan will last 4-8 days depending your skin.
* This tan is perfect for a night out or even a day to day tan.
Enjoy xx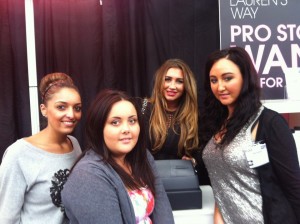 Meeting Lauren – From Only Way is Essex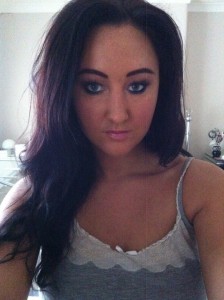 Me after applying "Darker than Dark"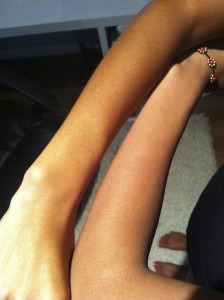 Before and after from applying tan – This hasn't even developed yet!!