Don't know what to do for your daughters birthday party?
Why not a Princess pamper party? These parties are so popular now and the girlies are loving them.
Hire out KG Salon and let us do all the things young girls love to do – Paint nails and toes, jump on the fish pedicure, curl hair, glitter stick on tattoos. They just love it while eating lots of Birthday cake!
Contact Katie for prices – Minimum of 5 children per party, max of 15.
See pictures below of the lovely Olivia enjoying her 7th Birthday at KG Salon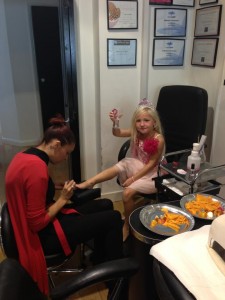 "Massive thank you to Katie and her staff at KG salon for making Olivia's 7th birthday pamper party a great experience!!!! And now I'm booked in too….bonus xxxx"