Just think……..No more mascara, longer, thicker lashes you have always wanted – Wake up in the morning and your ready! 
Yes thats right! This is what you get with Semi Permanent Lashes. Low maintenance and look perfect all the time. 
Can I have them permanently? Yes! Just come back for infills every 2 weeks, which take 10 minutes and they will stay looking perfect.
What happens if I don't get infills? They will just fall out naturally in around 3-5 weeks. Perfect if you just want them for an occasion – Wedding/Holiday 
Will they damage my natural lashes? NO not at all. They fall out with your own lashes – Your natural lashes are falling out every 90 days, so they are constantly shredding. A false lash with only come out when your natural lashes are ready to come out – reason why you need infills to keep them full all the time because your lash circle. 
Can I still wash my face? Yes – You can't get them wet for 2 days – This is while the glue and lashes are setting. Still wash/shower as normal, just be careful with your face and wash round your eyes.
Do I still wear mascara? No – No more mascara. We will work with you and get the exact look you want so you won't need mascara. 
Get yours now – Only £50.00 for a full set! Before and after images 

CLICK HERE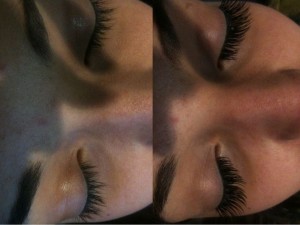 ………………………………………………………………………………………………………………
Don't want semi permanent lashes but still want longer lashe
s?
CompleteLash is the answer – With a money back guarantee, CompleteLash will make your lashes longer and thicker in 4-8 weeks.
I haven't got my lashes on at the moment – I am missing them SO much, but I had to try this new product. Well….It has been 3 weeks and wow what a difference. Can't wait to see the difference in another 3 weeks.
£72.00, and if your not happy with the results we will give your money back! Can buy in salon or bu
……………………………………………………………………………………………………………..
KG Offers this week
Book a Hot Stone Massage or Swedish Massage 
THIS WEEK ONLY
 – And get 
20% OFF!
 Loyalty card/vouchers cannot be used. 
Have a great day everyone!
Katie Godfrey