We invite you to be a part of something truly special – our Ear Piercing Marathon fundraiser dedicated to the memory of the remarkable young boy, Gorgeous George. His infectious smile and unwavering determination continue to inspire us every day.
From July 25th to September 1st, come to our salon for any ear piercing service, and a portion of the proceeds will be donated to Brain Tumour Research. By getting your ears pierced, you not only enhance your summer style but also contribute to the fight against this devastating disease. Together, let's make a difference and honor George's memory. 💙
For those with little ones eager for ear piercings during the summer holidays, we've got availability for them! Plus, every brave little participant will receive a children's nail art goodie bag, generously donated by Salon Serve!
Not interested in a piercing? No problem! You can still show your support by visiting our salon to make a cash donation, or simply contribute online through our JustGiving page (linked below).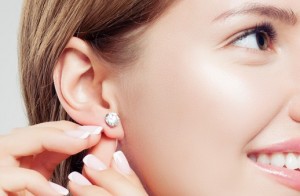 Frequently Asked Questions (FAQs):
How do I look after my piercing? We will provide you with a FREE aftercare lotion and our therapists will give you the knowledge on how to best look after your new piercing as it heals.
How old do you have to be for a piercing? We can pierce from 6 months old and there's no age limit onward! We are more than happy to offer x2 piercers to do both ears at the same time. This ensures the procedure is quick and efficient for your little ones! Just let us know in advance. 😊
What areas do you pierce? We offer lobes and cartilage piercings.
How long does a piercing take to heal? The healing time for an ear piercing can vary depending on the person and the type of piercing. Generally, it can take anywhere from 6 weeks to 6 months for an earlobe piercing to fully heal. Cartilage piercings can take longer, from 6 to 12 months.
Let's come together and raise awareness, support vital research, and offer hope to the countless families affected by brain tumours. Your ongoing support means the world to us, and together, we can create positive change in the lives of those impacted by brain tumours. If you have any questions or need further information about the fundraiser, please don't hesitate to reach out to us. We're here to assist you in any way we can.
Join us for this meaningful cause and let's make a difference together! 💙