Hello beautiful clients,
We hope you all had a wonderful Valentine's Day with your loved ones.
On Tuesday we welcome the lovely Kyra who is joining our team! Kyra is a very experienced and talented beauty therapist who has been in the industry for many years. You won't be disappointed in her treatments.
We will be offering 20% OFF all Kyra's treatments for the rest of this month while she meets you all and gets used to the salon.
Please mention when booking – if you book online the discount will be applied when you pay in salon.
As you all know, lash extensions are a HUGE part of KG Salon. After winning awards in this treatment and lashes being so popular – Chloe, Kelly and Kyra are in training this week. They are very excited and know will be amazing.
From Friday, Semi Permanent Lash Extensions will be £35 with these three ladies till end of the month. Instead of £50.00.
Again please mention this when booking, otherwise you will be booked in with the experienced lash technicians, Laura and Jess which are £50.00.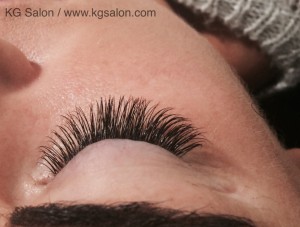 Don't know what Semi Permanent Lashes are?
They are the perfect solution to not wearing mascara anymore and having perfect lashes 24/7.
A lash extension which length and curl is chosen to suit your eye shape and desired look is applied on one of your natural lashes.
They are 100% safe and no damage is caused to your natural lashes if followed by our aftercare. Treatment takes around 60 minutes and lash Infils are due every two weeks.
Most ladies have them on all year round, while some prefer them for occasions or holidays.
Why not give them ago while the treatment is on offer?
Call on 01582 883611 to book in.
Katie Godfrey
KG Salon
4A Bedford Road
Barton Le Clay, Bedfordshire
MK45 4JU
Tel: 01582 883611
www.kgsalon.com
Winner of "Eyelash Technician Of The Year" award
Follow us on twitter and Facebook @kgsalon